2017 Volvo S90 Introduction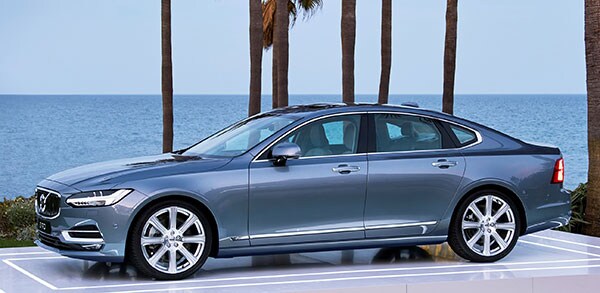 Elegant, distinctive, and Scandinavian, the new 2017 Volvo S90 replaces the long-lived S80 in the Swedish automaker's lineup. Amounting to a new beginning, the Volvo S90 adopts styling themes from the recently redesigned XC90 crossover. Almost no components are carried over from the outmoded S80. Volvo developed the concept in Sweden, under the auspices of its new Chinese owner, Geely Holding.
Built on a brand-new platform, the freshly engineered S90 gets new fuel-efficient powertrains. Each version holds a 2.0-liter four-cylinder engine, offered three ways for North America. In front-wheel-drive Volvo S90 T5 trim, the turbocharged engine makes 250 horsepower and 258 pound-feet of torque. Equipped with all-wheel drive, the Volvo S90 T6 gets a supercharged and turbocharged version generating 316 horsepower and 295 pound-feet. (A 400-horsepower version works with electric drive in the forthcoming T8 Twin Engine sedan, expected later in the 2017 model year.)
Each S90 gets a first-rate Aisin 8-speed automatic transmission. An optional air suspension promises a calmer ride, along with improved handling. Even in S90 T6 guise, with the air suspension and firmer Dynamic setting, it feels softly sprung. The optional air suspension is essential for owners who intend to make use of the S90's 4,600-pound towing rating.
Both the S90 T5 and stronger-performing S90 T6 models come in Momentum or Inscription trim.
The S90 offers active-safety features that qualify as first in the world. Standard large-animal detection can automatically reduce speed or brake to a halt if a creature is in the roadway. Road-edge detection depends only partially on the presence of a painted shoulder line. Front seats are designed to help curtail high vertical forces that might result in back injury if the S90 leaves the road.
Semi-autonomous driving features are standard. The Pilot Assist system blends active cruise control with forward collision warning and lane-keep assist. Enabled by flicking a switch, the system lets the driver remove hands from the steering wheel sporadically, for up to 15 seconds each time. Blind-spot monitoring and cross-traffic alert systems are optional.
About 35 percent of S90 body weight is high-strength steel. No crash testing has been undertaken in the U.S. as yet.