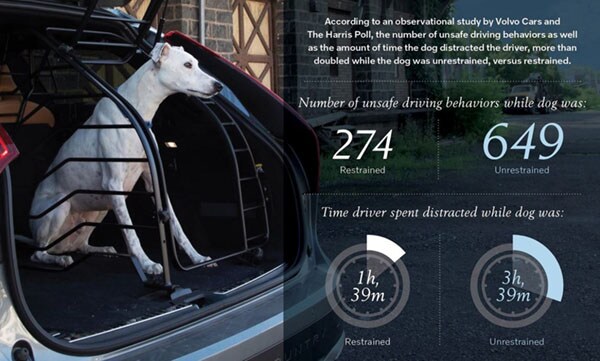 A new study from Volvo Car USA and The Harris Poll revealed that allowing pets to roam unrestrained while driving led to significantly more unsafe driving behaviors, more time distracted and increased stress on both drivers and their four-legged friends.
Volvo and The Harris Poll followed 15 drivers and their dogs for more than 30 hours on the road, to examine how driving with an unrestrained pet affected driving behavior vs. when an owner used restraints (e.g. pet seat belts, harnesses, crates, carriers). With pets allowed to roam freely, they found:
Unsafe driving behaviors more than doubled (649 instances while unrestrained vs. 274 while restrained)

Time drivers were distracted more than doubled (3 hr. 39 min. unrestrained vs. 1 hr. 39 min. restrained)

Stress on both drivers and pups increased (Heart rates were likely to increase for people and pets)
"While pets roaming around the car can be cute and convenient, it poses serious risk for both drivers and their pets, both in terms of causing distractions and increasing the chances of serious injury in the event of an accident," said Dr. Mazzaferro, Staff Criticalist, Cornell University Veterinary Specialists. "Unfortunately, in my field, we see the potential devastating consequences regularly, many of which can avoided by simply ensuring our animals are safely secured."
Volvo Cars is the leading vehicle manufacturer to develop safety accessories for pets that directly tie into the safety system of the car. This integration is critical to ensuring all safety features work together to protect all occupants. These accessories include a Dog Harness, Load Compartment Divider, Dog Gate and Protective Steel Grille.